Making Payment Remittances¶
This page helps you to understand 'Making Payment Remittances'.
It's part of the 'Accounting' getting-started series.
Creating A Remittance¶
In the main menu, go to the Accounting section.
Select 'Remittance' > 'New'.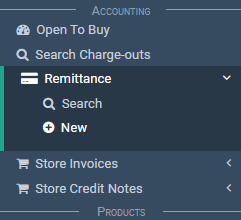 The 'Payment Remittance' screen appears.
Making Payment Remittances¶
This section of the tutorial describes how to make payment remittances.
Once you receive a charge-out, you can proceed to make a payment remittance.
Here you can payoff the invoices/credits on the charge-out.
First steps:
Select the drop-down to view a list of charge-outs.
Select a charge-out.

This loads all the invoices and credits on the charge-out.
Note

Only charge-outs with 'outstanding balances' appear in the list.
Next:
Locate the checkboxes on the right-hand side of the screen.
Select which invoices/credit you wish to include on your payment remittance.
Use the top checkbox if you want to select all the documents at once.

Hover over the 'Difference' label.
Notice a breakdown pop-up appears.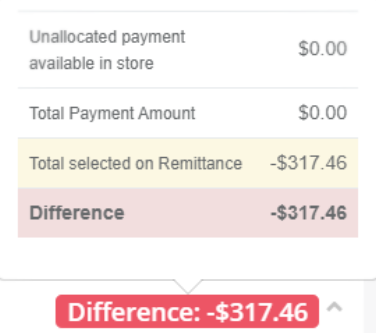 Enter the difference value in the 'Payment Amount (Incl)' field.
Also make sure you include the bank reference.
The 'Comments' field is:
an optional text field
used to pass on a message to Head Office

Warning

Only use the 'Payment Amount (incl.)' field if funds are physically transferred.

In instances where no money is transferred (if you want to use unallocated credit) DO NOT enter a value here.
Once that's done, select the 'Complete' button at the bottom of the screen.
Confirm with OK.
Await for Head Office to approve the payment.
At that point, the amount is restored to your OTB.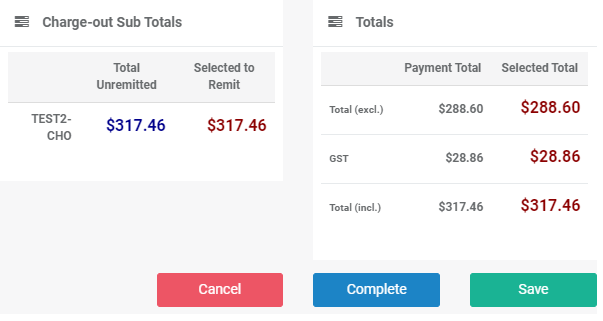 Related Tutorials ¶
Accounting